Protecting Fish and Sea Life

Fish are very tasty and full of nutritious value, and so our seas, rivers and lakes are fished for their food value. Many people depend upon fish and the fishing industry for their livelihoods, and it is an important food for many people, animals, birds and indeed other fish. However, we have a responsibility to protect and care for water, fish and fishing stocks so that all who live in and off the sea can continue to survive long into the future.
Check out the Marine Conservation Society's Good Fish Guide
The presence of well-populated bird colonies with a variety of birdlife are excellent indicators of adjacent marine areas rich in sea and fish life.
View the Marine e-atlas for Seabird Conservation
Also sacred scripture tells us that the value of creatures is much more than feeding people. The psalmists exhort creation - including fish - to praise the Creator! However, at our present rate and intensity of fishing we are forcing many species into extinction with the result that their unique praise of God will be lacking ... forever! And we will never hear their message.
If we only stopped for a moment to look at these creatures, we would be astonished at their beauty and marvel in the Creator ... View some of the links below to learn more.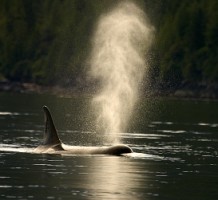 Let heaven and earth praise him,
the seas and everything that moves in them.
- Psalm 69, 34
Online Resources:
Learn about Irish Sea Creatures by clicking here.
Check out Underwater Ireland to learn more about Ireland's sea & freshwater creatures.
Check out the Irish Whale and Dolphin Group for information on these wonderful creatures and their conservation.
Watch Snorkelling in Marine Reserve saltwater lake - L. Hyne, Ireland.
Let the sea roar, and all that fills it
- Psalm 98, 7